DisplayLink - Dell MKS14b dock with Fedora 24
Very pleased to report success on connecting my TP300LA running Fedora 24 to a USB 3.0 DisplayLink dock. This would be a very handy way of connecting monitors. At present I can only use the laptop with a monitor connected to its HDMI port.
Here's a little teaser before we look at the details:
OS - Fedora 24 running kernel 4.9.13-101.fc24.x86_64
Dock used: Dell MKS14b
Installed the displaylink-rpm driver following the instructions posted for Fedora 25 by reypm at this post. He experienced some issues while attempting to install the DisplayLink driver on Fedora 25. The instructions for Fedora 25 worked without a glitch on Fedora 24.
DisplayLink driver rpm link: fedora-24-displaylink-rpm-1.3.43-2.x86_64.rpm
Checking the status of displaylink.service after installing the driver
[root@tp300la displaylink-driver-1.2.65]# systemctl status displaylink.service
● displaylink.service - DisplayLink Manager Service
   Loaded: loaded (/usr/lib/systemd/system/displaylink.service; static; vendor preset: disabled)
   Active: inactive (dead)

Connected the USB 3.0 cable from the dock after installing the DisplayLink driver and checking the displaylink.service was active
Plugging in the USB cable from the dock
[root@tp300la displaylink-driver-1.2.65]# systemctl status displaylink.service
● displaylink.service - DisplayLink Manager Service
   Loaded: loaded (/usr/lib/systemd/system/displaylink.service; static; vendor preset: disabled)
   Active: active (running) since Thu 2017-03-23 13:41:57 GMT; 5min ago
  Process: 24805 ExecStartPre=/sbin/modprobe evdi (code=exited, status=0/SUCCESS)
 Main PID: 24822 (DisplayLinkMana)
    Tasks: 26 (limit: 512)
   CGroup: /system.slice/displaylink.service
           └─24822 /usr/libexec/displaylink/DisplayLinkManager

[ 5043.605949] usb 1-1.3: New USB device found, idVendor=0451, idProduct=8044
[ 5043.605951] usb 1-1.3: New USB device strings: Mfr=0, Product=0, SerialNumber=1
[ 5043.605952] usb 1-1.3: SerialNumber: NNNNNNNNNNNN
[ 5043.606309] usb 1-1.3: Not enough bandwidth for new device state.
[ 5043.606315] usb 1-1.3: can't set config #1, error -28
[ 5043.669754] usb 2-1.3: new SuperSpeed USB device number 19 using xhci_hcd
[ 5043.681922] usb 2-1.3: New USB device found, idVendor=0451, idProduct=8046
[ 5043.681924] usb 2-1.3: New USB device strings: Mfr=0, Product=0, SerialNumber=0
[ 5043.682440] usb 2-1.3: Not enough bandwidth for new device state.
[ 5043.682447] usb 2-1.3: can't set config #1, error -28
[ 5043.745725] usb 1-1.4: new low-speed USB device number 32 using xhci_hcd
[ 5043.826237] usb 1-1.4: New USB device found, idVendor=046d, idProduct=c016
[ 5043.826242] usb 1-1.4: New USB device strings: Mfr=1, Product=2, SerialNumber=0
[ 5043.826245] usb 1-1.4: Product: Optical USB Mouse
[ 5043.826247] usb 1-1.4: Manufacturer: Logitech
[ 5043.826793] usb 1-1.4: Not enough bandwidth for new device state.
[ 5043.826806] usb 1-1.4: can't set config #1, error -28
[ 5044.050445] evdi: [W] evdi_painter_disconnect:462 (dev=-1) An unknown connection to ffff96485851e000 tries to close us
[ 5044.050447] evdi: [W] evdi_painter_disconnect:463  - ignoring
[ 5044.063811] evdi: [D] evdi_painter_connect:443 (dev=1) Connected with ffff96485851e000
[ 5044.063813] evdi: [D] evdi_detect:75 (dev=1) Painter is connected
[ 5044.063852] evdi: [D] evdi_painter_crtc_state_notify:360 (dev=1) Notifying crtc state: 3
[ 5044.064608] evdi: [D] evdi_detect:75 (dev=1) Painter is connected
[ 5044.064612] evdi: [D] evdi_painter_get_edid_copy:192 (dev=1) 00 ff ff
[ 5044.099866] evdi: [D] evdi_painter_mode_changed_notify:376 (dev=1) Notifying mode changed: 1920x1200@60; bpp 32;
[ 5044.099868] evdi: [D] evdi_painter_mode_changed_notify:377 pixel format 875713112
[ 5044.099873] evdi: [D] evdi_painter_crtc_state_notify:360 (dev=1) Notifying crtc state: 0
[ 5044.099876] evdi: [D] evdi_painter_dpms_notify:347 (dev=1) Notifying dpms mode: 0
[ 5044.280517] evdi: [D] evdi_detect:75 (dev=1) Painter is connected
[ 5044.280520] evdi: [D] evdi_painter_get_edid_copy:192 (dev=1) 00 ff ff

disconnecting the USB cable from the dock
[ 5102.015916] usb 1-1: USB disconnect, device number 29
[ 5102.015920] usb 1-1.2: USB disconnect, device number 30
[ 5102.063364] usb 1-1.3: USB disconnect, device number 31
[ 5102.063491] usb 1-1.4: USB disconnect, device number 32
[ 5102.122400] xhci_hcd 0000:00:14.0: Cannot set link state.
[ 5102.122405] usb usb2-port1: cannot disable (err = -32)
[ 5102.122410] usb 2-1: USB disconnect, device number 17
[ 5102.122411] usb 2-1.1: USB disconnect, device number 18
[ 5102.123103] cdc_ncm 2-1.1:1.5 enp0s20u1u1i5: unregister 'cdc_ncm' usb-0000:00:14.0-1.1, CDC NCM
[ 5102.143956] usb 2-1.3: USB disconnect, device number 19
[ 5102.145449] evdi: [D] evdi_painter_disconnect:483 (dev=1) Disconnected from ffff96485851e000
[ 5102.145452] evdi: [D] evdi_detect:78 Painter is disconnected
[ 5102.145488] evdi: [W] evdi_painter_disconnect:462 (dev=-1) An unknown connection to ffff96485851e000 tries to close us
[ 5102.145490] evdi: [W] evdi_painter_disconnect:463  - ignoring
[ 5102.147704] evdi: [D] evdi_detect:78 Painter is disconnected
[ 5102.177013] evdi: [D] evdi_painter_crtc_state_notify:360 (dev=-1) Notifying crtc state: 3
[ 5102.177019] evdi: [W] evdi_painter_send_crtc_state:266 Painter is not connected!
[ 5102.194840] audit: type=1130 audit(1490277065.997:5177): pid=1 uid=0 auid=4294967295 ses=4294967295 msg='unit=NetworkManager-dispatcher comm="systemd" exe="/usr/lib/systemd/systemd" hostname=? addr=? terminal=? res=success'
[ 5102.348666] evdi: [D] evdi_detect:78 Painter is disconnected

[root@tp300la displaylink-driver-1.2.65]# systemctl status displaylink.service
● displaylink.service - DisplayLink Manager Service
   Loaded: loaded (/usr/lib/systemd/system/displaylink.service; static; vendor p
   Active: inactive (dead)

Screenshots
2 displays: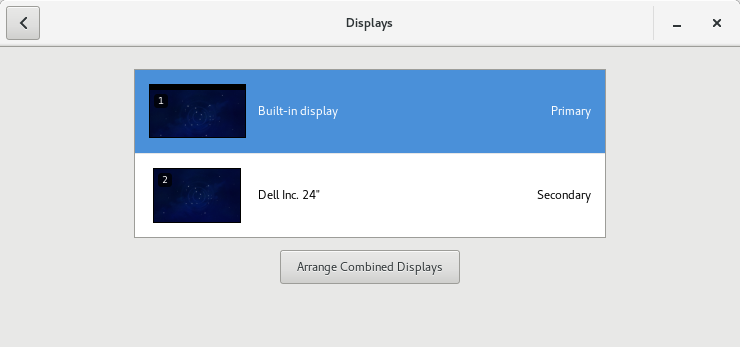 3 displays
---